"I like my money right where I can see it…hanging in my closet."

– Carrie Bradshaw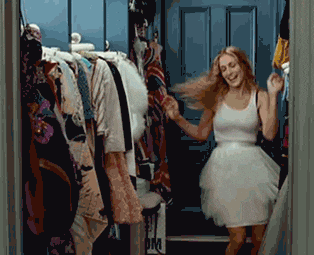 When it comes to the fashion industry, Bradshaw is not alone on this statement as fashion brands and design houses around the globe not only like, but love to see your money hanging in your closet as well. (Preferably, in the form of their own designs!)
For brands like H&M and Zara to the fashion houses of Gucci and Prada, this could only indicate one thing; their products are selling and their fashion remains in business.
However, this concept is nothing new. From an early age we are taught that "money makes the world go around" and it is clearly displayed in fashion through the constant interplay between consumers, who buy products, and brands, who produce the products that help their businesses stay afloat.
What is new, therefore, is the ever-growing competitive nature of the fashion industry and the ways in which brands attempt to keep eyeballs on their designs and their designs only.
When lecturing for a class at Rutgers University, fashion reporter of The Wall Street Journal Teri Agins argued that this often provokes a challenge for many designers as it is difficult to remain competitive in the general 25 to 30 peak years of their brand's lifetime. Every season, designers face the challenge of creating innovative silhouettes that consumers will actually buy among the endless supply of counterfeits, imitations, variations, and rival designs.
"Fashion is all about novelty," Agins said. "If you begin to see something too much, it loses its novelty, but you also have to reach a critical mass in order to make money."
Over the past few decades, the world of Hollywood and the realm of fashion have collided in order to overcome the obstacles of the business, by following the money through celebrity endorsers.
Although celebrities have always played a major role in fashion by influencing the styles and designers we covet, with the rise of the Internet and social media in the 21st century, the worship of fame has launched the celebrity into a new arena of the fashion world, gaining more power than ever to sell.
With this, designers not only have the ability to reach a broad audience by using celebrities as a means of promotion for their brand, but they remain innovative, fresh, and desirable as well.
We see this monetization of fame and celebritization of fashion all the time through Dior campaigns featuring Jennifer Lawrence and Amanda Seyfried's promotion for Givenchy.
More recently, brands like Louis Vuitton, Versace, and Calvin Klein are pushing the boundaries and reinventing their brands with the popularity of young stars like Jaden Smith, Gigi Hadid, and Kendall Jenner as their campaign models.
However, the impact of the celebrity on the fashion world does not simply stop there. In her latest book, Hijacking the Runway, Agins reveals that designers have gone as far as turning stars into fashion brands to sell more products.
After Jessica Simpson's debut on The Newlyweds in 2003, the MTV reality show in which followed the lives of Simpson and husband, Nick Lachey, as they navigated through their first few years of marriage, the star's popularity caught the eye of one designer in particular; Vince Camuto.
Recruited by the Italian-American designer to market new collections, Simpson agreed to a fashion contract that would go on to earn $1 billion in retail in more than 22 categories.
What is even more interesting is that Simpson barely had to lift a finger as she earned a percentage of the revenue simply by renting out her name, according to Agins. What a career!!!
The author also discusses the ways in which celebrities are inundating the fashion industry and competing for the spotlight by capitalizing on their own fame to become designers themselves.
"Celebrities like Gwenyth Paltrow and Jessica Alba are competing with fashion brands," Agins said. "Anyone that already has a social media footprint has the ability to excel."
This is especially true for former Spice Girl turned fashion designer, Victoria Beckham, who entered the industry in the early 2000's as a spokeswoman for Rocawear, the New York-based clothing retailer.
Rising to fame with her fan base formed as Posh Spice and the increasing popularity of her fashion campaigns, Beckham ultimately used the stardom to reinvent her image and create her own fashion label that walks the runways at New York Fashion Week every season.
Courtesy of Vogue
As in the stories of Beckham and Simpson, it is quite clear that following the money trail in the fashion industry leads straight to your closet and off the racks of department stores.